Whether you're formatting your book for print or an ebook, there are some pagination rules you must follow.
For your eBook-only project, you can choose as few as 2 pages for your book.
For your printed book only project, your binding options are a result of your page count.
If you are choosing perfect binding or adhesive case wrap (hard cover) for your book, you need at least 24 pages.
If you take a sheet of paper and fold it in half, you have an example of the 4 pages. We created a quick image to show you what we mean.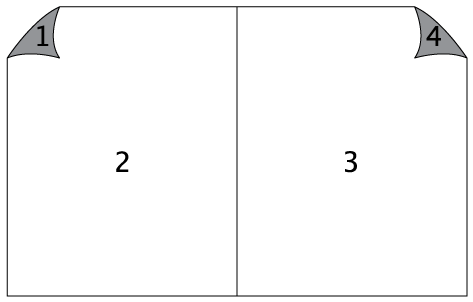 Blank pages will be added at the end to meet this requirement. For example, if you are at 21 pages, your document will have a blank page 22, 23 and 24 added to it. If you are close to 24 pages, you may want to consider adding a few pages so you can take advantage of all the benefits of perfect binding and adhesive case binding.
If you are ordering printed books and eBooks, you would need to select the page count for the printed book (for both options).